About B-Mech (Building Mechanical)

Founded in 2000, B-Mech Engineering is a leading engineering services company.
Since its inception, the company has built a reputation for itself as a reliable and trusted supplier and Installer of Fire Protection System.
In B-Mech, we are committed to:
Provide dedicated and excellent engineering services, including pre-factorial fabrication, installation for industrial, commercial building and residential development project.
Supplying innovative and value engineering, performance based fire safety solutions including design, installations, addition and alteration works for protection system.
To us, integrity and sincerity and priority in our business operations. We have the technical know-how professional knowledge, efficient management, diligent staff, skillful labor, state-of-the-art technology and sufficient resources to deliver timely and top quality works to all our clients.
We aspire to be the most preferred fire fighting contractor and leading engineer of providing excellent, quality-oriented fire sprinklers and fire engineering solution.
BCA Register
ME 06 – L5 For Fire Protection System
Quality Assurance: OHSAS 1800:2007, ISO 9001:2008
Safety Certificate: BizSAFE Level Star, Approved Scaffold Contractor from MOM
Achievements
B-Mech Engineering obtained OHSAS 18001:2007, ISO 9001:2008 Quality management system, Bizsafe Level Star as well as Certified approved scaffolding contractor's. In 2010, we are being awarded with the "Outstanding Safety Award" from July 2008 to July 2010 by Hitachi Plant Technologies followed by a "Monthly Best Performance Safety Award" in  December 2010 by Sato Kogyo. 
Accreditations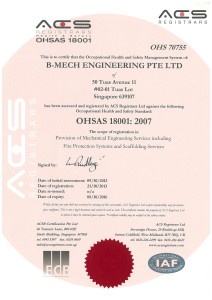 Quality Assurance: OHSAS 1800:2007, ISO 9001:2008
Safety Certificate: BizSAFE Level Star, Approved Scaffold Contractor from MOM